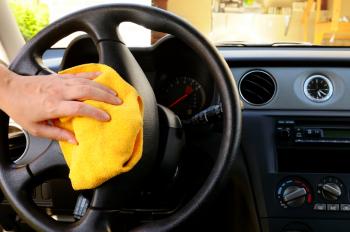 Interior Car Detailing 101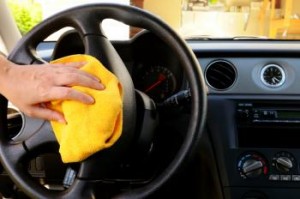 If you have invested in Invisibra protection for your car your exterior car maintenance has been significantly decreased but as great as it is there is not a lot that Invisibra can do to help you with the maintenance of the inside of your car. 

If you're like most of us with busy schedules, it is extremely hard to find the time to run a vacuum over the interior, let alone actually do some car detailing properly . It does then tend to become a dumping ground for all sorts of things and occasionally even a sort of treasure-trove for junk collectors. But it does not have to be that hard to give the interior of your car a good clean and once you have done it once maintaining this new, neat state of affairs should not be so hard. 

Getting Started 

Park your car in a cool, shaded spot as some cleaners can get 'baked' to a cars upholstery in direct sunlight which will dry out the natural oils in any leather. Head out with a good stock of cotton, terry cloth towels on applying and removing detail products. 

The first task – cleaning out all of that crud, can be the hardest. order of business is getting all of the crud out of the interior. Have a big garbage bag on hand and you may even want to don a pair of rubber gloves in case you come across something really nasty. On the upside the chances are that you will find at least $5 in change if you do a good clearing out job. 

With all of the bigger rubbish out of the way, step back and really take a good look at the state of your car's interior now. Are you going to have to tackle just a bit of dust and a few stains or are there nastier food/pet/kid related stains and odors to be dealt with. Assess the damage and then get ready to start cleaning. 

Attach a soft brush attachment to your vacuum and, using a gentle 'stroking' motion go over the dash, headliner, gauges and console.  After vacuuming, wipe the whole area down with a damp cloth using a circular motion to remove additional surface dirt before you get down to some deeper cleaning. 

The chances are also good that the cupholders in your car actually see more mileage than the tires and get just as grimy. If you tend to prefer soda when driving you probably have at least some gloopy residue to try and cut through. To do so mix up a batch of baking soda  and water in a 1:4 ratio. Spray the cupholder liberally (but son't soak it) and then allow the mixture to soak in before wiping with a terry cloth towel. After the goop is gone, wipe the cupholder with a damp terry towel and then dry off. 

Next direct your attention to the front seats, the package tray and rear seats, using the same technique as before to take the bulk of the dust and dirt off. . To reach the the nooks and crannies in and around the seats, console and transmission tunnel attach the crevice tool and have at it.

Hopefully, your floor mats take the brunt of the punishment and the carpet beneath them is in pretty good shape. Vacuum the mats well with the carpet-comb attachment and then remove them from the car. 

Now for the carpet itself . Using the carpet-comb tool, vacuum as much dirt and stuff as you can.  If there are  stains on the carpet and floor mats are that are relatively small or light, a "spray, scrub and vacuum" product such as 3M Scotchgard Carpet Cleaner will more than likely do the trick nicely. If not, you may have to invest in renting a carpet cleaner instead.

Now it is time to turn your attention to cleaning the dash and seating surfaces. If your vehicle has leather upholstery, opt for a quality leather cleaner such as Lexol-ph Leather Cleaner or Mothers Leather Cleaner. Use separate cleaners and conditioners, rather than an all-in-one product as this allows for better deep cleaning and the best possible protection for the leather.

Leather cleaners generally come in two forms: spray and liquid paste. The spray types are usually a spray-on, wipe-off affair. Liquids have to be "massaged" into the leather to be effective. In either case, follow the manufacturer's directions for proper application.After cleaning, you'll need to condition the leather and dash in order to restore the natural oils and retain its original suppleness and deter aging. 

Cloth seats have become more and more resistant to staining, thanks in part to new formulations in fabric treatment, which were originally developed by the 3M company in the 1980s. The use of "Scotchgarding" (the correct term for 3M's Scotchgard product) adds a barrier to help repel water and oil-based contaminants from staining cloth and velour fabrics. Therefore, cleaning a stain-resistant cloth interior is relatively easy, compared to cleaning a leather interior. Nearly all cleaning products for cloth interiors are produced as an "all-in-one" cleaner and protectant, in spray, scrub and wipe/vacuum form, such as 3M Scotchgard Cleaner and Protector. 

Finally it is time to pay a little attention to the windows. There are lots of window cleaning products out there, but good old fashioned Windex is still a great choice but if you have tinted windows stick to distilled water only as the ammonia in Windex can create little 'pits' in the film. 
Jim Lambert established
Classic Touch of South Florida
to provide automotive appearance enhancement and protection services. Eight years ago the company narrowed its focus and now specializes in two specific areas: the KwickSilver method for wheel rim repair and the Invisibra Paint Protection System. A lifelong car enthusiast Jim is as dedicated to every vehicle works on as its owners are and to serving the needs of motorists across South Florida.